If you are a reader of my blog, you know that I have been talking about all things TLC for several months now. It was all for this movie. The movie has been released now, and I have been thinking about it ever since, and now I have finally decided that I should give my take on it. I usually focus strictly on music on my blog, but this pertains to music, so, why not??? I am no movie critic, so don't expect me to give you an Ebert & Roper review. I will try my best, though (work with me).
CrazySexyCool: The TLC Story (2013)
The movie, is of course, VH1's Original Movie CrazySexyCool: The TLC Story. The film is a biopic. Its chronicles the female R&B super-trio TLC's rise to stardom, and the many speed bumps along the way. The films depicts its heroines (Tionne "T-boz" Watkins, Lisa "Left-Eye" Lopes, and Rozanda "Chilli" Thomas) as they battle bad relationships, legal issues, financial issues, health problems, and tragedy. TLC's tale is one of truly overcoming adversity, no matter what the odds.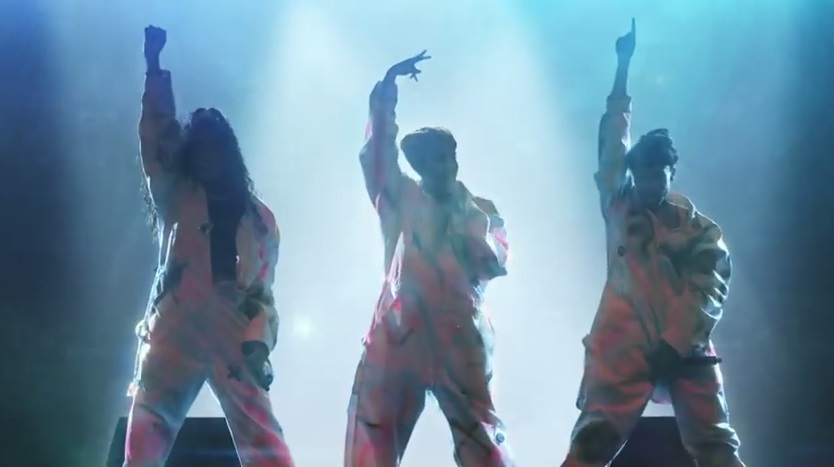 Image from the movie
The casting, in my opinion, is a good fit. There is Drew Sidora playing the T in TLC, T-boz. Left-Eye is played by rapper, Lil' Mama, and to round out TLC, Keke Palmer playing Chilli. Lil Mama (Left-Eye) is undoubtedly the standout performance of the film. Her resemblance to the late Lopes is uncanny. On top of that, Lil' Mama has Left-Eye's mannerisms and facial expressions down-packed. She captured her spunky, free-spirited, and rambunctious energy very well. The other major characters, TLC's record label executive and manager, L.A. & Perri "Pebbles" Reid, and producer Dallas Austin, were played by Carl Anthony Payne II, Rochelle Aytes, and Evan Ross respectively. Aytes' Pebbles was another one of my favorite performances in the film. Even though Pebbles is not one of the best people in the film, Aytes really pulled off her "not so nice" behavior very well. Prior to watching the movie, I watched an interview with Pebbles. Aytes had her down-packed as well. Pebbles is now in consideration for a modern-day Joe Jackson.
Now in this picture, the resemblance is scary!
The timeline of the film basically starts with the formation of the group and ends in the present day. We (the viewers) are only showed a quick glimpse at each of the girls childhood as an introduction and then it fast forwards to when the ladies are adults. That was a problem for me. I would have to say my biggest problem with CrazySexyCool is that it was not long enough. Maybe its just that I am TOO much of a fan, but I felt like they should have went more in depth . The movie was about two hours long. That's fine, but TLC had so much to cover it could have easily been a 3-4 hour long movie (or like they said in interviews, a mini-series), but since it was the time that it was, I think they did a good job on outlining their career. They reviewed everything briefly. If it was just maybe 30-45 minutes longer, they could have showed some more. I would want to see more about their childhood, more about their bankruptcy battle with Pebbles (didn't that take over a year), more of them recording their albums, (especially!) more about their life after the death of Left-Eye (which they completely skipped over) and a host of other things. I did not realize how many different events took place in their lives. That movie could have been super long! I am starting a petition to have this movie deemed as just a pre-quel, outlining a miniseries coming in 2014. Please sign up for support of this to be set into action down below. (haha)